I will come right out and say, the main premise for this blog, adventuring in a Sprinter van, was a bust.  I purchased an extremely unreliable vehicle at auction.  I threw thousands upon thousands of dollars into it, trying to get it fixed and reliable.  It keeps breaking down.  I don't even want to look at it.  It fills me with thoughts of failure whenever I even think about it.  I should just sell it before my insurance comes due again.  Or just take the plates off and drive it into the Harbor.  Haha.  While that seems to be a popular method of vehicle disposal in Baltimore, I would not do that.  I'm sure someone would buy it as a parts van.  Or if they know what they are doing, it might be a simple fix away from reliable.
This is the main reason I have not wanted to write much here.  I put $9K into the purchase and perhaps $10-11K into repairs so far.  That's a huge $20K cash into something with absolutely no return.  I could have dumped that into a stock or cryptocurrency.  Or purchased a cool reliable Toyota Tacoma or Toyota 4-Runner.
When I spent that money, I was making a good salary and had lots of money in the bank from selling my house.  Now, my situation is much different.
I shouldn't regret the decision to blow $20,000 because I have learned a lot by living on much more limited funds.  I think I am a better person for it.  And hungrier to make changes in my life.
Now to the big reveal:  I'm living on a boat!
Haha.  I love that video.  But the boat I'm living on is very much not like that boat.
Ah, this is more like it: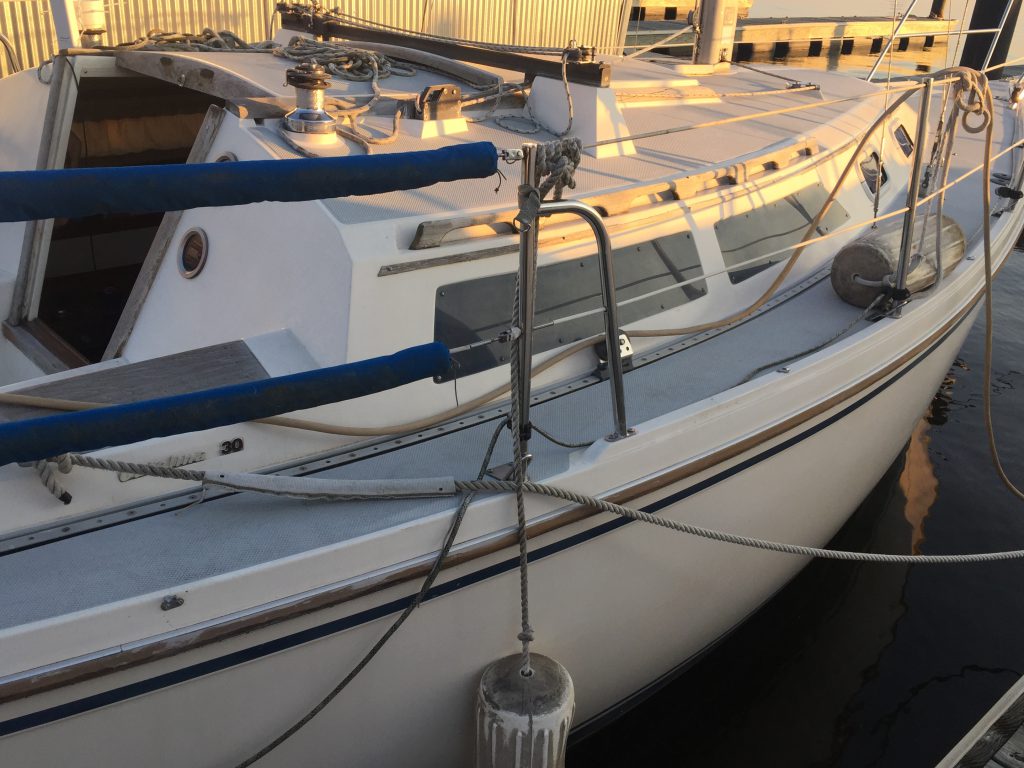 I had been idly considering boat life for a while.  Normally, I jump into a new idea with a bunch of cash and then figure things out later.  Not a great strategy with the van!  My buddy has a boat, and it needed some upgrades that he didn't have time for.  I'm staying on his boat for a few months while I attack those upgrades and figure out what I'm doing with the rest of my life.
It's a 30 ft Catalina sailboat.  I don't know much about sailboats.  I am slowly learning the lingo.  Most of the things I'm doing are fixing leaks.  Removing hatches and ports, reapplying adhesive, and screwing them back down.  I replaced the cooler foot pump.  I fixed the hinges on the rope locker which had snapped off.
I'm in an unprotected marina in Baltimore.  It's in the same neighborhood as the house I sold, so I get to hang out at my old neighborhood haunts.  It is an extremely walkable neighborhood.  Some of the bars and restaurants are quite expensive for my reduced budget, but if you shop around the specials and know where to go, it's not that bad.
Some of you might be asking yourselves "What is an unprotected marina?"
I should post some pics of the difference here.  In an unprotected marina, your boat moves around a lot more.  Wakes from gigantic container ships, Coast Guard cutters, Navy ships, pleasure boats not observing the no-wake zone, and wind coming across the harbor can make the water choppy and create a lot of up and down, and side to side motion.  Wind from land can make the boat rock, but it isn't as bad.  I think there may be a cost saving for being in an unprotected marina.  The position of your boat in relation to the waves makes a difference too.  You normally want your bow, or front, facing the waves.  Waves hitting you from the side is not fun, and since the stern, or rear, is wider than the bow, the rocking can be a bit harsh.
There's a lot I could write on this.  I've spent quite a bit of money on trial and error purchases on heaters and mobile internet solutions.  I will review a few things in other articles.  In talking to other liveaboards, they report similar experiences.  Every situation is different, preferences are different, so what works for one person may not work for another.
I should tie this up with a logical conclusion.  My new adventure is living on a boat, adventuring in place.  Doing this in winter in Baltimore is a challenge.  I know others do it in colder climes, like Boston, so this is totally doable.  I have heard of two people (who aren't a couple) living on a 30-foot sailboat, and I'm by myself, so I have lots of room in comparison.  I can even choose from two different places to sleep.  The V-berth or Quarter berth.