I recently purchased a Zagg Rugged Book case for my iPad Air 2.  In this post, I will review it and explain why I think it, combined with an iPad, is an excellent choice as a small laptop.  It is much more economical than an Apple MacBook or a Microsoft Surface.  I will also give some tips on getting a great price on this setup.
On Black Friday of last year, I was looking for a laptop upgrade.  My old gaming laptop from 2011 still runs extremely well, probably because I spec'd it out like a beast and ordered it custom, and then, later on, I upgraded the hard drive to an SSD and upgraded the RAM.  The problem is that since it is a "gaming" laptop, it gulps power which is a big problem for mobile people. When the fan spins up, it often sounds like a jet plane about to take off! Plus, the fan spins up at weird random times.  I could understand if I'm playing a game or editing a movie or mining a crypto-currency, but its just sitting by itself, idling, and it mysteriously starts screaming (in rage, or pain, or perhaps both!).  The point of this post is to not gripe about my old laptop.  I'm setting up this story. I'll get there, I promise!
I travel a lot, usually in a van or car, and sometimes by bicycle!  A big, bulky laptop that does a great job running games or editing video has a lot of power requirements that are not compatible with the kind of traveling I do.  There is not always a motel room with power to plug into.  Most coffee shops do not have a place to plug in.  If they do, most likely there are already several people camped out around it with a twisted, demonic-looking (and very unsafe!) growth of power adapters and splitters hanging off of it!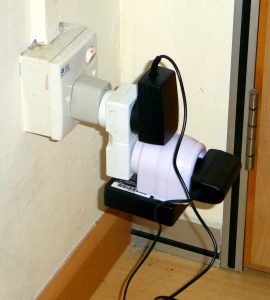 So I made do with what I had, and one day I found myself killing time at a Best Buy, and I saw a rugged iPad case.  Light bulbs went off!  Rugged!  Small!  Nice Bluetooth keyboard!  Backlit even!  It was even on sale, but for some reason that I regret, I didn't buy it.  I did some research online when I got home, and they were much more expensive than the clearance model I saw at the store.  So I added it to my watchlist and kept an eye on the prices.
Months went by, but I never pulled the trigger.  It is a fairly pricey item, so it isn't just an impulse buy for me.
Recently, I found myself looking longingly at really nice 13″ laptops, and then I had to virtually slap myself, and I decided that the Zagg Ruggedbook case was my best option.  Zagg makes them for multiple versions of the iPad.  I have an iPad Air 2, which isn't current, so the availability of cases can vary.  My model was sold out of Amazon when I looked, so I got mine off eBay.
I'm so glad I got it!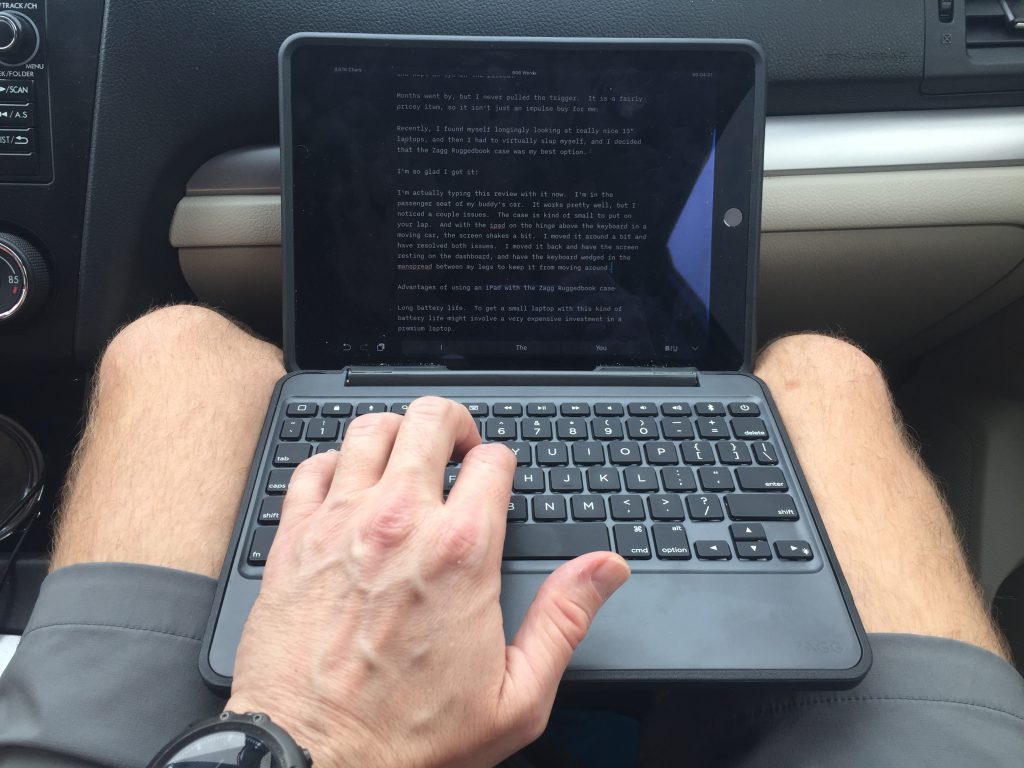 I'm actually typing this review with it now.  I'm in the passenger seat of my buddy's car as we drive to a trail run on the Virgina Creeper Trail.  The setup works pretty well, but I noticed a couple issues.  The case is kind of small to put on your lap.  And with the iPad on the hinge above the keyboard in a moving car, the screen shakes a bit due to the weight of the iPad.  I moved it around a bit and have resolved both issues.  I moved it back and have the screen resting on the dashboard, and have the keyboard wedged in the manspread between my legs to keep it from moving around.
When on a stable surface, there is no wiggling, even when aggressively typing
-First impressions:
Frankly, I was not very impressed at first when I unboxed it.  It seemed very flimsy when opening and closing.  I had to hold the hinge when opening and closing because I feared it would break.  Luckily, I didn't obey my first impulse to immediately send it back. I put the iPad in the case, and then everything worked much better.  The hinge works great with the iPad installed in the case.  If you read some of the comments at Amazon, other people noticed the same problem, and evidently didn't bother to actually try it out with the iPad in the case.
It comes in two parts.  One is the case for the iPad, and the other is the keyboard.  The keyboard is detachable.  When detached, the iPad functions just like a normal tablet with a protective case.  It also saves some weight.
It is very easy to detach.
You can reverse it, and that is supposedly "viewing mode". If you don't want to have the keyboard in the way while you are hands-off watching a movie or tv show, this is the mode you want.
While reversed, if you close it all the way, this is tablet mode.  It's kind of heavy like this, but it is pretty good for when you don't have a lot of space to store the keyboard and/or don't want to lose it.
-Advantages of using an iPad with the Zagg Ruggedbook case
Long battery life.  To get a small laptop with this kind of battery life might involve a very expensive investment in a premium laptop.
Easy charging from USB.  This is a HUGE benefit.  You don't have to drag around a huge AC brick that most laptops have.  You can charge it from the DC cigarette lighter in your vehicle or a battery pack.  Keeping a laptop charged while on the road or camping is a huge problem.  Keeping an iPad charged uses the same equipment you probably already have to keep your phone charged.
-Built-in Data connection.  Well that's if you get one with cellular data.  I've had a couple wifi-only iPads before, and you can tether it to your phone if your carrier allows it on your data plan.  IPads with cellular data capability are typically $130 more than wifi-only ones, at least when new.  If you are shopping for used ones, the spread is much less.  When you add in that Verizon was offering unlimited data plans for multiple devices, it only cost me an extra $10 per month to add my iPad to my Unlimited Verizon plan.  I don't want to go into too much detail about the plan, because cell carrier's offerings change so often due to competitive pressures.  But the cellular data plan was a huge part of the value proposition for me.  Tethering a cellphone to a laptop sucks a lot of power.  This is way more efficient.
-Games!  Admittedly, the selection and experience is not up to what you might have at home with a gaming PC, gaming laptop or premium console.  But it will last more than the 45 min you might get out of a gaming laptop on battery.
I will do some research in the future and see how well the consoles can do in a mobile environment. I know I've seen van-dwellers on YouTube with an Xbox busily fragging aliens in their mobile man-cave.  You would need a high-efficiency TV or monitor to hook up to it.  But I like the minimalism of the iPad paired with the Zagg Ruggedbook.
Most games on the iPad are touch based, but some offer controller support and the Zagg Roughbook can act as a stand, so you can keep your hands free to use the controller to zap aliens or whatever.
Before you get scared away by the prices of Apple gear, know that iPads are easy to find second hand.  I usually purchase a slightly older one on Gazelle or eBay.  If you want to save even more money and are technically able and have the right tools, you can purchase one with a cracked screen on craigslist VERY cheap, and fix it.  Make sure it will boot up and it's not activation locked because then it's only good for parts.  Be suspicious if it is offered way below market rate.
-Apps
When iOS devices first came out, they were very disappointing user experiences.  I had much frustration and gnashing of teeth (perhaps some wailing was involved also;-).  As the years went by, Apple kept adding additional functionality which turned their devices from expensive toys that didn't do much, to capable business devices.  I won't launch into a several thousand word rant of all the frustrations I had with early iOS devices.  (although I really want to!)
With the upcoming release of iOS 11, it will only get even better.
Microsoft has made a big investment in the platform.  MS Office with Word, Excel, Powerpoint, and OneNote are really slick.  They're fully compatible with the desktop versions, and with a recent update, they even seamlessly work with alternate cloud drives like Dropbox and Google Drive.  For a long time, they made it difficult and annoying to use anything other than their own OneDrive.
Google has also made a big investment in their iOS offerings.  Docs, Sheets, and Slides are really nice and have the advantage of being free!  Google Keep, which is their Notes app, still needs a LOT of work before I even deem it usable.
Even Apple has upgraded their own office suite called iWork.  It consists of Pages, Numbers, and Keynote.  When they first came out, they were absolutely frustrating in the extreme to the point of not being usable.  I reduced my blood pressure by 10 points by just deleting these apps! I recently tried them out again, and they aren't as terrible.
Perhaps I will review them in another article.  I want to keep this article focused (or at least make my best effort) so I will cover the best office suite in another post.
One of the things that made work on an iPad so frustrating was that each app had its own file system, and they were protected from each other.  So if you have a file that you want to edit in two different apps, you had to hope there was some way to transfer the file back and forth.  More recently, they allowed better access to cloud providers from the apps.  So we used Dropbox, for instance, as a filesystem for the iPad.  But that was slightly silly, having to copy a file up to the cloud just to share it amongst different apps.  And the silliness went beyond silly if you are trying to edit large files like movies.  Try copying a multi-gig file up and down from the cloud just to do your workflow.  And what if you are in an area of poor or no data connection?  iOS 11 finally exposes a unified file system to the apps on the iPad.  This is a huge step to making it something you can do work on.
I will quickly run through some business apps I use.
Canva is offered as an iOS app for both iPad and iPhone, and as a web app on Canva.com, so you can create web graphics and logos from any device.
I have not edited movies on the iPad yet.  In my research, iMovie and Splice seem to be the best.  I'll try them out and post a review later.
With mobile devices, it is often difficult to get one app that will do everything you need it to do, so you often use a series of apps on one file.  I am not heavily into photo and graphics editing, but the aforementioned Canva is awesome, and I also use Aviary for some tasks.
For writing, I like iA Writer.  It works well with my cloud providers, and it has a nice interface.

Here is a link to the Zagg Rugged Book for the iPad Air 2. If you have a different iPad, you can easily find one that fits different models.
---
Update:  I have been using this for a while now, and it usually works pretty well.  But when I go to busy coffee shops like Starbucks or Panera Bread, it sometimes doesn't work.  It pairs, but my typing doesn't register on the screen.  I have tried all the advice on their support site.  Turn off Bluetooth, and back on.  "Forget this device" and repair.  Charge the keyboard, even though the power indicator says it has plenty of juice left.  I'm not sure if it is just too many Bluetooth devices, or someone else has a Zagg Rugged Book.  I would imagine this problem would happen with any popular Bluetooth device in a busy area.  It would be nice if you could customize the name so it would be unique.
I also updated to iOS 11.x.  The multi-tasking is better, being able to cast the screen is great if you have an Apple TV.  It's not as great as I was expecting.  If you only have room (or budget) for one device, I am really liking the small Dell laptops.  You can run Windows 10 or Linux on them.  I'm not linking to a specific laptop because most of them have limited inventories, and they will probably run out of stock and the link will be useless.
Drop me a comment below if you need some help deciding what kind of laptop or computing device you need.  Seriously!