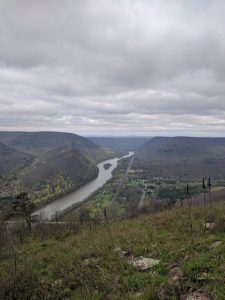 This last weekend I went to central Pennslyvania for the 2017 Hyner View Trail Challenge.  My goal was to have my 2006 Dodge Sprinter Van "Smokey" ready to go for an adventure, but alas, the check engine light came on a couple of days before the race.  There have been a lot of issues with this van that I'll detail in other articles and posts as I build out the Sprinterventurer.com website.  Instead, my buddy and I took his Subaru Crosstrek.  The Hyner View Trail Challenge is a trail race with two options, 50K and 25K.  The 25K has three significant climbs of about 1400ft each, totaling 4300 ft of elevation gain over 16 miles.  My buddy did the 50K, which adds two more climbs and double the distance with total elevation gain of 7500 ft.
There was a lot of rain in the days before the race, and that resulted in many stream crossings.  In some places, the streams overflowed their banks and cascaded down the trail!  There was so much slogging through water that I was unable to feel my feet for a while.  Eventually, things dried out, and I saw people changing into dry socks at an aid station.  Two minutes later, we were slogging through the water again! Oops.
Here is a video of the race by Rosser Runs, where you can see the slogging through water and the big hills.
As you can see in the video, this is not a race for the faint of heart. There is a reason they call it Beast Coast Running! You need to be prepared.  We trained on the largest local hills we could find, like Maryland Heights in Harper's Ferry West Virginia, and Bob's Hill in Cunningham Falls State Park in Maryland.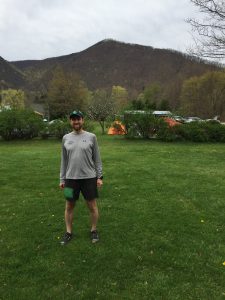 Hyner is a beautiful area.  You can camp just feet from the Start / Finish, or across the road at an airfield.  We heard there was a good party at the end of the race, and it mostly did not disappoint.  I say "mostly" because yes, there were free and delicious draft microbrews from Yorkholo Brewing Company in nearby Mansfield PA, and it was plenty fun until the last stragglers heaved themselves over the finish line.  Then everyone packed up, and our camping area decamped en masse.  There were only a couple people left!  Some party!  We later found out that the people socializing were over at the airfield.  The airfield is also where you can park vans, RV's, and trailers.
So here we were, by ourselves, but we had the forethought to have cold beer in the cooler, and we brought a portable firepit and firewood!  We fired it up and enjoyed it for a while, and then a couple that had gone out for dinner returned to their campsite and joined us for a while.  So we did learn that if you want to be social at a campsite, having a fire is important.  Once when I was camping in Colorado, there was a group of college kid stoners in the next campsite, and they said: "Without a campfire, you're just chilling in the dark."  I'm pretty sure they were talking about me because I was indeed "chilling in the dark" looking at the stars.
Pro tip:  If you don't want to camp, you can stay in Williamsport, PA which is a bit less than an hour away but it has the advantage of being the home of Bullfrog Brewery, which has delicious microbrews and excellent food.  Many vegan options if you are into that kind of thing.  Lock Haven PA is only 30 miles away and is a college town, so I'm sure they have good stuff there, too, but I have not yet stopped there.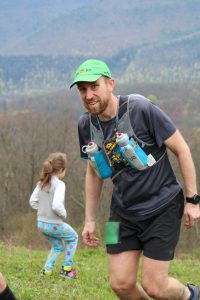 Update:  Hyner View Trail Challenge 2018 registration went live yesterday, and it was selling fast.  I signed up for the 50K next year!  I need to make sure I get in plenty of long runs, hills and stairclimber, get in front of the slowest part of the conga line going up Humble Hill, and most importantly, I need to get Smokey the Dodge Sprinter adventure van working reliably!!!  We are camping in the airfield in 2018.